Comprehensive Supply Chain Services to Fashion Industry
STYLE, BRAND IMAGE, QUALITY, VARIETY, AVAILABILITY - these are the keys for the success in fashion industry. Waterson Woods has high level of proficiency on the apparel supply chain to take care of all vital aspects of the supply chain to reduce the workload of brands and retailers and increase their efficiency on retail business.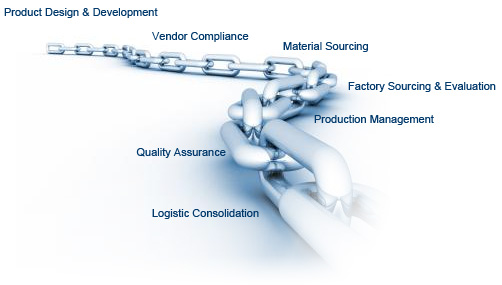 Benefited From Us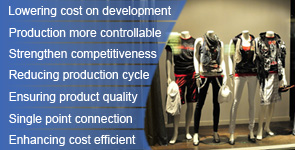 Apparel manufacturing is never simple. We always listen to our client's needs and adapte their unique workflow to ensure high level of coordination. By taking care every step from development, product design, material sourcing and selection, fitting evaluation, manufacturing, quality control, to logistic, we manage this complexity for our clients by well coordinating all parties to ensure production always right on track. Our clients have always been benefited from us.
Product Design and Development
Waterson Woods has a design teams which knowledgeable in manufacturing technique and fashion trend. We evolve client's preferences and requirements on product identity and styling. With our development experience and close connection with our manufacturers, we turn ideas into reality with high-quality and exceptional value. We keep close monitor to products' specification to ensure problems can be solved in time to avoid any disastrous mistakes in production.
Material Sourcing - get the best, get up-to-date
Waterson Woods brings client's products to market by harmonize all parties which are involved during production. Starting with fabrics, trims, accessories, dying, printing, then on to cut-and-sew assembly operations, and finally laundry and finishing facilities before going to logistic system. Also, we always introduce the new fabric and accessories to our clients periodically to ensure their products are never behind.
Quality Assurance - fundamental of achievement
We always put client's reputation and product quality in the top priority as successful brands always come with quality. With our precise quality assurance protocols, our quality assurance team conducts on-site visits to ensure all products meet the quality standards and on-time deliveries specified by customers. Our precise QA protocols usually can resolve quality problems at the initial stage instead of addressing problems at the end of production stage that make buyers have no choice to accept or reject the products with quality problems. Our mature QA protocols include pre-production review and inspection of raw materials, in-line audits and final audits. Our QA teams adopt the AQL standards for inspections. This ensures that products always above quality standard.

Quality Control and Management for different aspects: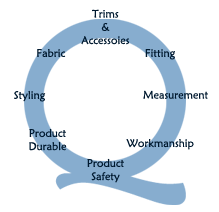 © 2014 Waterson Woods Limited. All rights reserved.